It was in 2008 that Yamaha changed the course of motorcycling in India with the introduction of FZ16. It was a motorcycle like no other. The widest rear tyre which we Indians had ever seen on an affordable two-wheeler made this Yamaha too good to be true. But Yamaha made a very strong mark with the FZ16 and now that spark has been carried forward with the all-new line-up for 2020.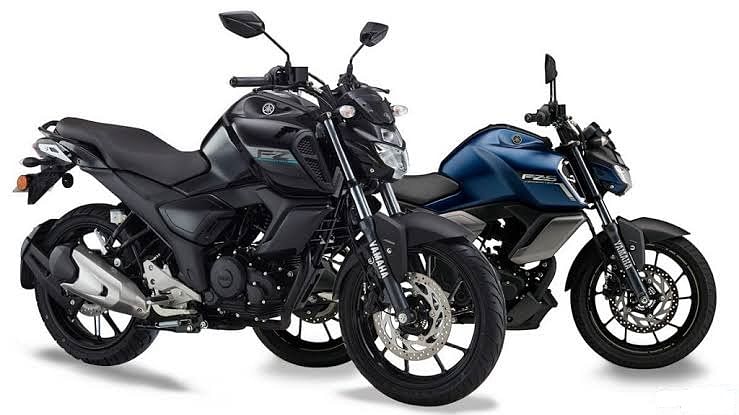 The FZ and FZS are the automaker's latest offerings and it carried forward the affordable performance nameplate. Both the motorcycles are technically the same with a few aesthetic changes and are priced at Rs. 99,200 and Rs. 1,02,700 Ex-Showroom Delhi respectively. Affordable thrill is still their strong point. Both of the bikes are literally the same with just two additions for the FZS. It is differentiated from the base model with chrome accents on the shroud and an under cowl.
But competitors have caught up real fast and now offer better wholesome packages. TVS Apache RTR 160, Bajaj Pulsar NS160 and Suzuki Gixxer 155 are the motorcycles which stand as a threat for the FZ and FZS. We would be taking the FZS for comparison below. Let's find out which motorcycle offers the best balance of performance, looks and practicality.
Pros
Cons
Instrument cluster is small and hard to read in daylight

LED headlight lacks throw

Weak rear brakes
What's New
Single-Channel ABS

BS6 norm compliant
What's at the heart of Yamaha FZ?
What are the performance characteristics?
Yamaha has always built reliable and robust machines. Their engines are the ones to take credit for this feat. The 149cc engine in both FZ and FZS is buttery smooth, so much so that you won't hear it under normal conditions. You will have to rev it high over 6000 RPM to hear a faint buzz. The performance figures are not the brightest of its class but then performance is not this motorcycle's winning point. It is the nature of power delivery and its highly versatile character. Power delivery is linear and the strong low and mid-end helps you carve your way through city traffic with ease.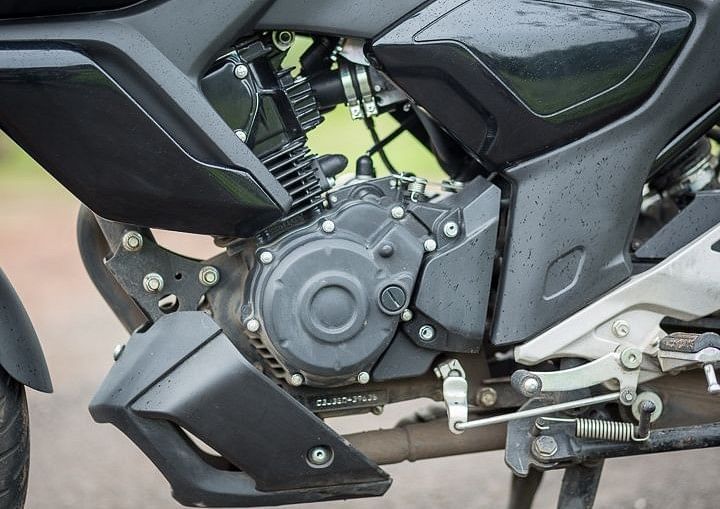 The engine is not stressed at all and it instigates confidence in you that cater to the driving experience. There is no lag whatsoever in the power delivery and the motorcycle pounces forward gracefully as you twist the throttle. Don't let the handicap in performance fool you, as the relaxed nature of its engine makes it a very good tourer as well, provided you really want to do it! The FZ line-up is powered by the tried and tested engine of Yamaha which can take a lot of beating.
Motorcycle

Yamaha FZS(BS6)

TVS Apache RTR 160

(Disc)(BS6)

Bajaj Pulsar NS160

Suzuki Gixxer 155

Ex-Showroom Price (Delhi)

Rs. 1,02,700

Rs. 1,03,000

Rs. 94,195

Rs. 1,00,212

Engine

149 cc Air-cooled 2-Valve SOHC Engine

159.7 cc Oil-cooled 4-Valve SOHC Engine

160.3 cc Oil-cooled 4-Valve SOHC Engine

155 cc Air-cooled 2-ValveSOHC Engine

Power

12.23 bhp

@ 7250 RPM

15.80 bhp
@ 8250 RPM

15.28 bhp

@ 8500 RPM

13.90 bhp

@ 8000 RPM

Torque

13.6 Nm

@ 5500 RPM

14.12 Nm

@ 7250 RPM

14.6 Nm

@ 6500 RPM

14 Nm

@ 6000 RPM
But, if you are a person that loves to rev the engine and hear it scream, then the TVS Apache RTR 160 or Bajaj Pulsar NS160 makes much more sense. These two are performance machines in commuter-clothing, as far as sub 180cc motorcycles are concerned.
How gracefully does this Yamaha accelerate from 0-60?
The FZ's accelerates very linearly and that is what makes it special. The sweet time it takes to build up momentum helps you to have command over the motorcycle. The 5-Speed gearbox is unreal as the shifts are seamless. We were shocked as to how Yamaha managed to make it so smooth.
This gearbox combined with the light clutch makes shifting gears addictive. You can shift gears all day! Even though the 50 kmph mark comes up slowly, you can achieve a class-leading 116 kmph even though it's in a rather sluggish manner.
Motorcycle

Yamaha FZS(BS6)

TVS Apache RTR 160

(Disc)(BS6)

Bajaj Pulsar NS160

Suzuki Gixxer 155

Engine

149 cc Air-cooled 2-Valve SOHC Engine

159.7 cc Oil-cooled 4-Valve SOHC Engine

160.3 cc Oil-cooled 4-Valve SOHC Engine

155 cc Air-cooled 2-ValveSOHC Engine

Transmission

5-Speed

5-Speed

5-Speed

5-Speed

0-60 kmph

5.97 s

4.73 s

5.35 s

5.85 s

Top Speed(kmph)

116

114

112

115
TVS Apache RTR 160 is the quickest of this lot as the added power and torque helps it to be nimble. So if you want a commuter that can have a spirited sprint every now and then it's either the Apache 160 or the Pulsar NS160. Gixxer and FZ have similar characteristics in different clothing.
How sure-footed are the brakes on the Yamaha FZ line-up?
Braking is sufficient for a commuter. The motorcycle stops on point when you engage the brakes. Disc brakes at both ends help amplify the bite and thus give you confidence through thick and thin.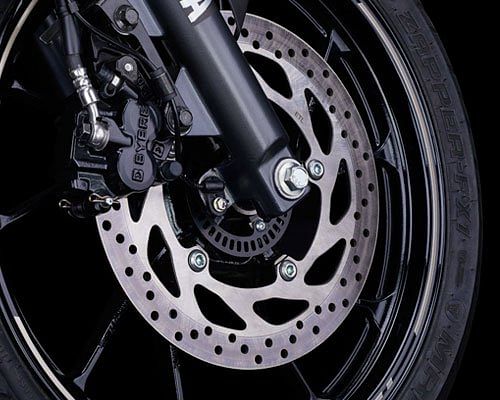 The added advantage of single-channel ABS is a boon which will help you keep the motorcycle under control during surprises. But we found the rear braking to be a bit sluggish and it didn't comply with the same bite as the front one. Nevertheless, braking is prompt and modulation is ample.
Motorcycle

Yamaha FZS(BS6)

TVS Apache RTR 160

(Disc)(BS6)

Bajaj Pulsar NS160

Suzuki Gixxer 155

Front / Rear

Disc/Disc

Disc/Disc

Disc/Disc

Disc/Disc

Front Rotor Size(mm)

282

270

260

N/A

Rear Rotor Size(mm)

220

200

230

N/A

Kerb Weight(kg.)

137

149

148

140

80-0 kmph(m)

36.44

41.51

39.54

31.47

ABS (Single or Dual Channel)

Single-Channel

Single-Channel

Single-Channel

Single-Channel
The beefy front forks and rear mono-shock helps keep the motorcycle stable during sudden braking and thus provides you with the confidence to keep moving forward. It is unlike the TVS Apache RTR 160 which feels the bulk through its braking. Being the lightest one of the lot also helps the FZ to have lower unsprung mass and thus stop quicker. But the Gixxer proves otherwise with its grippier brakes.
What sorcery does Yamaha use to balance out efficiency and performance?
Fuel efficiency is the FZ's strong point as the precise fueling and robust engine helps extract the most out of the 149 cc mill without sacrificing on fuel economy. The "Blue Core" engine helps form a balance between superior acceleration and efficiency.
Yamaha has also loaded it with a large 13 litres fuel tank which can even stretch the FZ for a weekend tour. The midship muffler also plays a smart role in increasing efficiency by reducing the overall weight. It might not sound like much but these tiny details help reduce the kerb weight which in turn helps in returning better efficiency figures.
Motorcycle

Yamaha FZS(BS6)

TVS Apache RTR 160

(Disc)(BS6)

Bajaj Pulsar NS160

Suzuki Gixxer 155

City(kmpl)

49.30

50.92

40.3

42

Highway(kmpl)

55.47

56.10

48.0

53

Overall(kmpl)

50.0

50.94

42.60

50.58

Fuel Capacity(Litres)

13

12

12

12
Suzuki Gixxer and TVS Apache RTR 160 can keep up with the Yamaha FZS in the long run due to similar mileage figures. The Pulsar NS160 suffers a bit due to its aggressive state of tune and shared characteristics from the NS200.
How well does the Yamaha FZ handle our roads?
How well does the motorcycle communicate with the rider?
Handling is the strong point of the FZS and it is one of the best handling motorcycles in this class. The wide rear radial tyre injects you with the confidence needed to zip through traffic or take corners with speed. The engine is used as a stress-member for the chassis and the silky-smooth engine is devoid of any vibrations which help in riding it without any disturbances.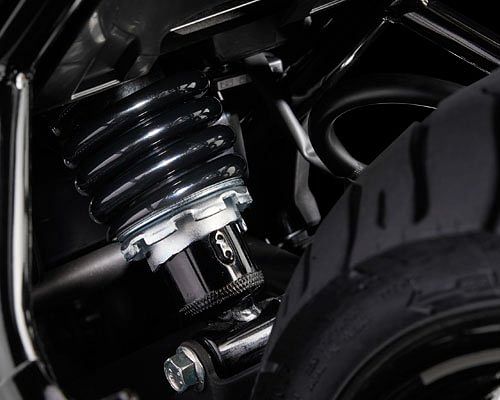 The suspension setup is towards the softer side and is perfect for comfortable city runs and even for those highway escapes. We won't recommend spirited cornering as the ride tends to unsettle. The short wheelbase helps you to easily mark the territory and thus make it much easier in manoeuvrability.
Motorcycle

Yamaha FZS(BS6)

TVS Apache RTR 160

(Disc)(BS6)

Bajaj Pulsar NS160

Suzuki Gixxer 155

Chassis

Diamond

Double-Cradle Split

Perimeter

Single-Downtube

Tyre-Wheel Size(Front)

100/80-17

90/90-17

90/90-17

100/80-17

Tyre-Wheel Size(Rear)

140/60-17

130/70-17

120/80-17

140/60-17

Front Suspension

Telescopic Forks

Telescopic Forks

Telescopic Forks with Anti-friction Bush

Telescopic Forks

Rear Suspension

7-Step Adjustable Mono-Shock

Mono-Shock

Nitrox Mono-Shock with canister

Mono-Shock
The 7-Step adjustable rear suspension is a neat touch and would cater to those riders for whom the ride is too soft. A few turns and you get a stiffer ride which is a luxury for a commuter centric motorcycle. The Japs surely know how to make reliable and addictive machines. Suzuki Gixxer is also one such sweet motorcycle that handles like a charm and is the only one that can come close to the Yamaha in terms of riding dynamics.
Can the Yamaha FZ and FZS get any more comfortable?
The uni-seat on Yamaha FZ and FZS are the most comfortable in the class. The padding and width is perfect for varying riders and can even keep you on for a fatigue-free experience. But things tend to get a bit uneasy for long rides as the seat tends to give up on you. SO its best catered for those city runs.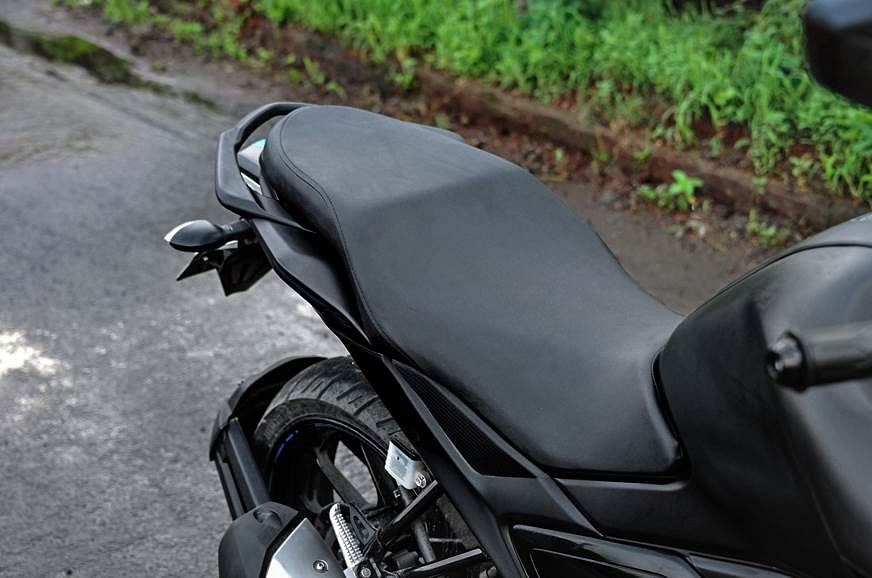 Yamaha has also raised the handle-bar so that you can have a relaxed and upright position and thus the riding triangle is a sweet one in this motorcycle. The footpegs are also linearly positioned and your legs stay relaxed. The adjustable rear mono-shock gives you the leverage to set your comfort zone and the front forks eat up imperfections easily.
Motorcycle

Yamaha FZS(BS6)

TVS Apache RTR 160

(Disc)(BS6)

Bajaj Pulsar NS160

Suzuki Gixxer 155

Seat height(mm)

790

800

805

795

Ground Clearance (mm)

165

180

177

160

Kerb Weight(Dry)(kg)

137

149

148

140

Starter System

Electric

Electric

Kick/Electric

Electric
The lower seat height helps short riders to handle this motorcycle with ease as well and usage of an electric-only starter system means no kicker-fuss. It's all just a click away! Ground clearance is on the lower side but that is not a buster as it can easily overcome speedbumps and in certain conditions a trail of off-road with ease. The only motorcycle in this category that showcases similar comfort levels is the Suzuki Gixxer 155.
What makes this Yamaha stand out in the crowd?
Have the muscles grown-up for this Yamaha?
The FZ series of motorcycles have always been the muscular ones. The wide rear tyre is only a start as Yamaha follows a design layout in which the bulk of the motorcycle is shifted forward or is shown to be so. That is why this Yamaha has a front shifted body language and somewhat looks like a streetfighter.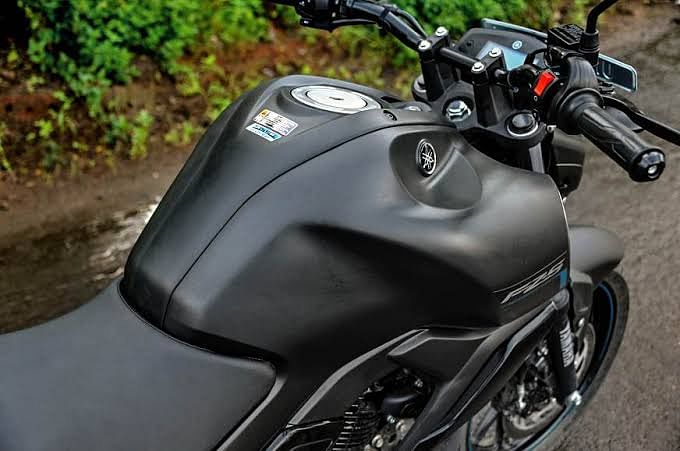 The LED headlight setup makes its presence felt from afar and as we are talking about the aesthetics, it is well to note that the only difference between FZ and FZS are chrome inserts on the fake air vents and a belly pan. That's about it and is what you pay the extra Rs. 2,000 for.
Aesthetic Features
LED Headlamp

Muscular Tank with shroud

Noticeable wide rear tyre

Ignition key position on the tank front

LCD Digital Instrument Cluster

Engine Cowl

Midship Muffler
Motorcycle

Yamaha FZS(BS6)

TVS Apache RTR 160

(Disc)(BS6)

Bajaj Pulsar NS160

Suzuki Gixxer 155

Length (mm)

1990

2035

2017

2020

Width (mm)

780

790

803.5

800

Height(mm)

1080

1050

1060

1035

Wheelbase(mm)

1330

1357

1370

1335

Kerb Weight

137

149

148

140
Noen of the competitors look as muscular as the Yamaha and this has been its strong point since the start. It all comes together well and the 2020 iterations have added shrouds which takes the muscle factor a notch up. The two Indians are subtle in this case as they are loaded with sharp lines. Gixxer is the only one that can be compared with the muscular Yamaha. If the FZ series is Arnold Schwarzenegger then the Gixxer is Bruce Lee!
What are the features available in the 2020 Yamaha FZ line-up?
The FZ line-up from Yamaha is loaded with ample of features for a sub-160cc motorcycle. It has a few extra ones as well to add to the value. But if you look at it from the price point, then its barebone as the most feature-rich area is its instrument cluster.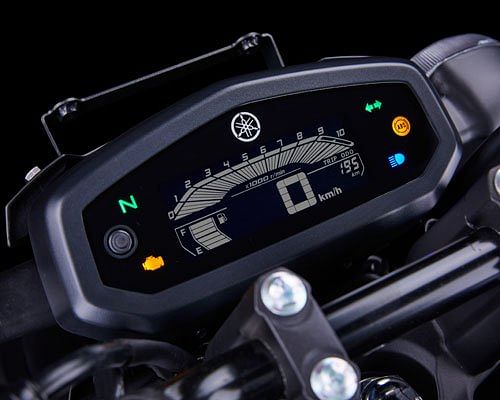 It would have made more sense if the cluster was loaded with features like gear indicator and basically a bigger screen in whole. The LCD display is small for our liking as it doesn't go well with the muscular shape of the motorcycle. Yamaha also provides the FZ line-up with an array of accessories. Those have been listed below.
Add-on Accessories
Tank Pad

Skid Plate

Rear Footrest

USB Charger

Engine Guard

Graphic add-on set

All-weather Seat Cover
The various highlighting features are listed below.
Motorcycle

Yamaha FZS(BS6)

TVS Apache RTR 160

(Disc)(BS6)

Bajaj Pulsar NS160

Suzuki Gixxer 155

Ex-Showroom Price (Delhi)

Rs. 1,02,700

Rs. 1,03,000

Rs. 94,195

Rs. 1,00,212

Features

LED headlamps

Petal Disc brakes

Triple Spark DTS-i Engine

Full LED Headlamps




Adjustable Rear Suspension

Edgy Engine cowl

Oil-Cooled

LED Taillamps




Midship Muffler

Dual-tone seat

Stiffened Chassis

TFT Digital Instrument Cluster




Rear tyre hugger

Split LED Headlamps

Edgy Pulsar styling

Dual-Exit Exhaust




Attention seeking Chrome treatment

Fully Digital TFT DIsplay

Split-seat

Split-Seat




Under-cowl

Glide Through Technology

Rear-tyre Hugger

Rear Tyre Hugger




Negative LCD Instrument Cluster

Bassy exhaust note

Split Engine Cowl

Beefy front forks
Another noteworthy feature is the negative LCD which gives it an upmarket feel. TVS has equipped the Apache RTR 160 4V with Glide Through Technology which basically helps you to crawl the vehicle through traffic without twisting the throttle. Bajaj Pulsar NS160 is another edge looking one.
What are the safety features available in the 2020 FZ?
Safety is well backed-up in the Yamaha FZ series. The addition of single-channel ABS has your back in case of out-of-control situations. The disc brakes at both ends provide with instant stopping power in case of emergencies.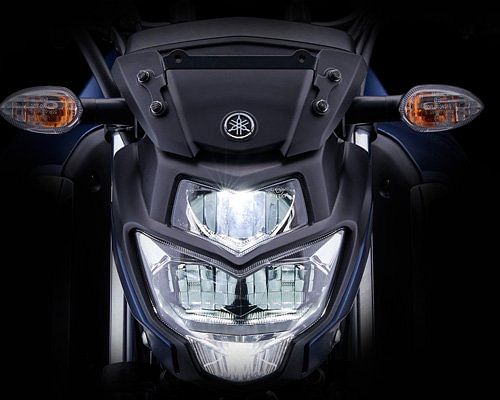 The LED headlamp is another notable feature which helps in making your presence known from afar and the bright taillight reminds following motorists of the muscular motorcycle ahead.
Safety Features
Single-Channel ABS

LED Headlamps

Disc brakes at both ends

Engine Kill Switch
How does the Competition add up against this Yamaha?
Yamaha FZS vs TVS Apache RTR 160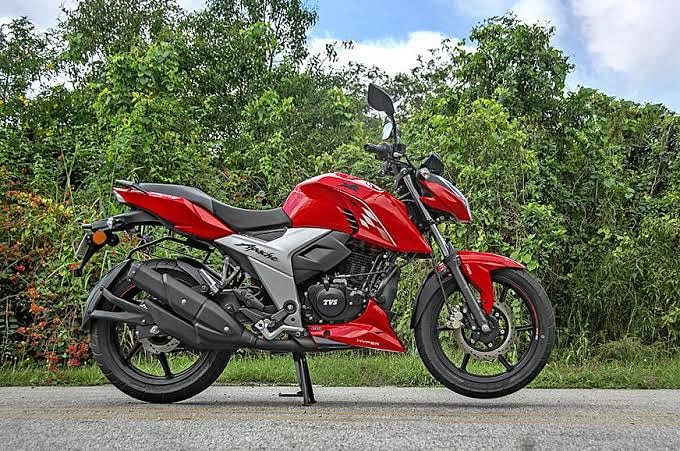 The Apache RTR 160 is TVS's answer to the long dominating stand of Yamaha's FZ line-up. It has managed to get almost all the criteria bang-on but misses out on one key factor and that is driving dynamics. The Apache surely is an involving ride but fails to showcase the dual character of Yamaha. This along with robust Yamaha engineering makes the FZ line-up much more desirable and comes in cheap as well.
Yamaha FZS vs Bajaj Pulsar NS160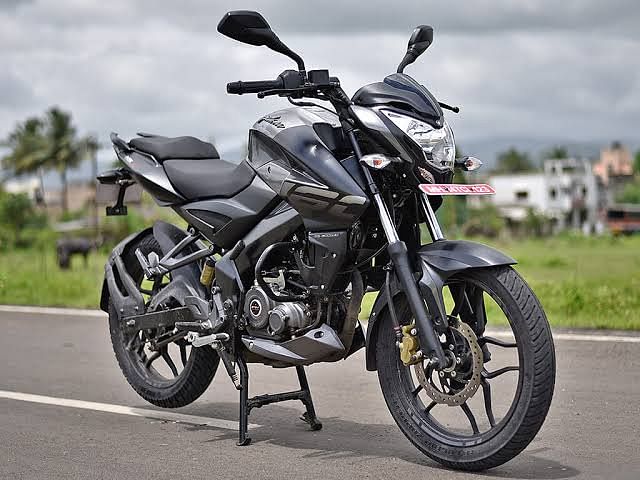 Bajaj has made a sporty commuter in the form of NS160. But the problem arises when we figure out that it is more of a sprint motorcycle than a commute. Now, if you want a performance-oriented motorcycle, then there are other offerings to look out for. This is the commuter segment and Yamaha caters to that cause very well with a buttery smooth engine and fluent riding dynamics to back it up. It is the Japanese that wins us over here.
Yamaha FZS vs Suzuki Gixxer 155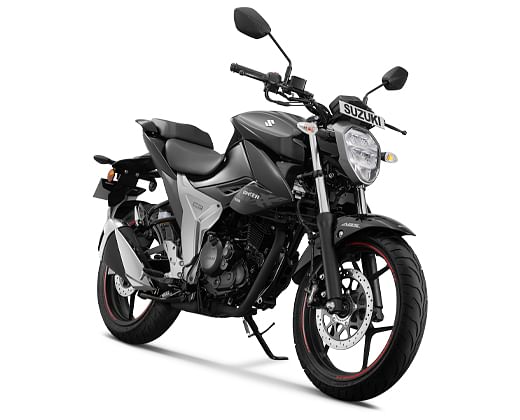 We see Yamaha's reflection in the Suzuki Gixxer 155. Yes, the Gixxer is a very potent machine that caters for the same cause as the FZ, but there is a catch. Yamaha did all of this 12 years ago and Suzuki is a lot late to the party. But all is not lost as Suzuki offers a bit more performance with the Gixxer without loosing out on the ease of riding. It looks the part as well and so it the sole competitor that can stand up to Yamaha. We will leave this one to you guys as both are equally potent and Japanese!
Whom exactly is the Yamaha FZ line-up for?
It is interesting to see that Yamaha has not strayed away from its formula of providing a hassle-free commuter motorcycle that is high on performance as well. This set of motorcycles is focused on beginners who are new to motorcycles, especially the ones who are migrating from scooters for a more safe and fun experience.
A wave of competition comes up now and then, but the FZ line-up stays strong. But we believe that Yamaha is stretching it a bit too much here as the motorcycle has not undergone any major change since its launch in India way back in 2008. It still rides on the same chassis. This is where newer manufacturers are providing with more modern packages and Suzuki Gixxer 155 is one such offering. As much as we love the Yamaha FZ line-up, we badly want Yamaha to not be confined to just aesthetic upgrades. The Gixxer is a very intimidating option and we would not hesitate to take it over the Yamaha.